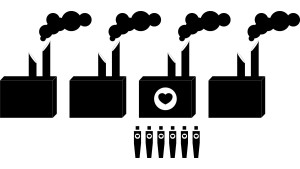 The results of the Swiss Student Survey reveal how students perceive organizations as employers in Switzerland. The research functions as a basis for decision-making when choosing target groups, messages and channels for future employer branding campaigns, as well as a control instrument for measuring the appeal an organization has over its specific target groups.
The rankings below reveal how attractive an employer is among students, and indicates a company's position in relation to other ideal employers in the recruitment market. The rankings enable employers to track and set targets for measuring their level of employer attractiveness.
"Generation Y has a strong desire for employability, i.e. the ability to find employment based on one's own competencies, because of their safety-mindedness. Members of this generation have realized that they can develop their competencies only with continuing education and development by an inspiring management." Yves Schneuwly, Universum CEO Switzerland.
Rank     Employer
Google.
Nestlé.
UBS.
Credit Suisse.
PwC (PricewaterhouseCoopers).
Swatch Group.
LVMH (incl. Louis Vuitton, Dior, Sephora).
McKinsey & Company.
L'Oréal Group.
SWISS.
Surprising results: Generation Y  wants consistency.  Swiss students participated in Universum's annual survey.            The survey takes about 20 minutes to complete, and participants are about 24 years old, on average.
Ideal Employer Ranking, Google secured the number one spot – and thus,  for the first             time, the IT leader was able to outpace the former  leader, Néstle. "We've observed this phenomenon around  the world in other global markets where Universum conducts surveys: Everyone wants to work at Google – even business  students",  says Yves Scheuwly, country manager at Universum Switzerland. The leading Swiss.
Banks are maintaining their previous positions for the most part; however, UBS  (No. 3) has been able to expand  its lead and to outpace its competitor Credit Swiss (No. 4). Foreign investment  banks have been able to restore the confidence of Swiss  business students, especially J.P. Morgan (No. 20). World Economic Forum is the highest-placed newcomer, entering the ranking this year at No. 21.
You can find more information on www.universumglobal.com