The Istanbul Grand Airport (IGA) has chosen Schindler as the main supplier for elevators and escalators for the new international airport in Istanbul.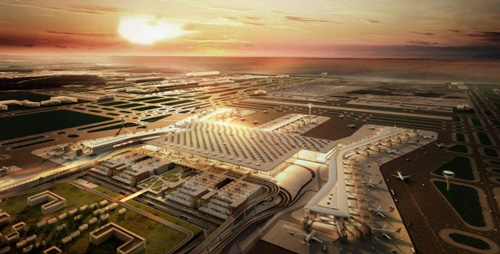 The award of the contract by IGA includes the supply of a total of 648 units by Schindler to the world's biggest airport. The contract consists of the delivery, installation and maintenance of 306 elevators, 159 escalators and 183 moving walks.
"We are very proud that Schindler is contributing to Turkey's new airport business hub in Istanbul", says Thomas Oetterli, CEO of the Schindler Group. "We are excited to bring our innovative technologies into this long-term partnership with IGA."
The largest airport in the world
The new airport will add huge capacity to the city's existing airports. Once completed, it is expected that the new airport will host more than 150 airline companies flying to more than 350 destinations with an annual passenger capacity of up to 200 million.
"We are absolutely sure we have chosen the right partner. Schindler not only delivers highly advanced products and reliable service but also stands for strong project management matching our demanding schedule for this super mega airport project", explains Yusuf Akçayoğlu, CEO of IGA.
Precision-engineered, modern and energy efficient Schindler products can be found in the airports of various cities such as Singapore, Seoul, Mumbai, London, Munich or Rome and will – after its completion – now also ensure the smooth flow of traffic in the world's largest airport in Istanbul.