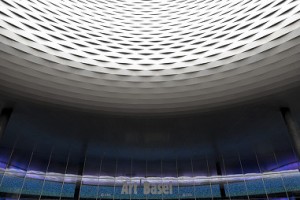 An Andy Warhol self-portrait for more than $30 million, or an inflatable dolphin by Jeff Koons for $5 million? While the sale of these works at Art Basel grab the headlines, swissinfo.ch found many original works of art for under CHF5,000 ($5,603).

Many galleries the world over use Basel as a launching pad for young artists at entry level prices, since art fairs are often the only chance for exposure outside their home countries. They flock to Art Basel, and its four satellite fairs, Liste, Scope, Solo Project and Volta.
Given the faraway places from which many galleries come, geopolitics remain surprisingly present, even in art.
Art Basel
The photographs of Swiss duo Taiyo Onorato & Nico Krebs are selling for CHF4,800. Their latest work is presented by RaebervonStenglin, a young Zurich gallery, in the highly selective Art Basel Statements 2014.
Considered one of the most inventive teams in contemporary photography, Taiyo Onorato & Nico Krebs present a series of analogous photographs from their road trips that have been spliced together to produce imaginary settings.
At Galeria OMR from Mexico City, 10 original pieces by established artists David Moreno, Julieta Aranda and Ryan Brown all sell for less than CHF 5,000.
Galeria OMR, one of Mexico's most prestigious galleries, has been coming to Art Basel for 15 years. "It takes us six months to prepare our display," said gallery director, Kerstin Erdmann and it shows. Although there have been changes every day because sales during the preview days were brisk, the stand retains a harmony not unlike walking into someone's home.
Volta
"It's a gamble for everyone," said Budapest eponymous gallery owner Erika Deak. She presents three of her artists at Volta, the fair that can be qualified as one down from the official Art Basel. And yet she is showcasing several striking works for less than the targeted price. "The problem is that we are situated in Hungary."
She explained that there is a lot of new wealth in her homeland, but not in the hands of real art connoisseurs, who tend to come from the left and not to belong to the present rightist government. "But I cannot have different prices when I present my artists abroad," she said.
Deak admits that she has become more conservative in her tastes over the years: "I get tired of art that requires a lot of information to be understood." She is looking for art that moves her, "that changes my life for five minutes and remains meaningful for a long, long time".
Art fairs are important, she said, because they are not just about selling, they are also about putting artists in front of curators.
International 3, a gallery in Salford, across the river from Manchester, operates on a different level, but with similar goals. Co-director Paulette Terry Brien said that she and her gallery partner attend 'degree shows' to identify graduating students that they can assist on their career paths.
"You get rewarded from buying early on, for taking chances," she insisted.
Liste
"You're forced to go global," Daria Pervain confirms. As principal of Sabot, a not-for-profit gallery at the heart of Transylvania, in Cluj-Napoca, Romania, she does the rounds of international art fairs to expose her artists.
Because there are no collectors in her home country, where art was used as a means of propaganda by the former Communist regime, she is an art Pygmalion who has secured premises in a former paint brush factory for local artists.
Scope
Hans Alf, from Copenhagen, who made a fortune in the IT business, makes no bones about being an art merchant whose purpose is to sell: "What do people buy once they have their car and their kitchen, they buy art," he observed. "My clients start at CHF1,000 and stay with me. I never sell them just one piece."
Alf vindicates his taste for craftsmanship. "Ideas disappear, but craftsmanship doesn't," which in his view explains the success of the gallery that bears his name. The fact that Denmark did not adopt the euro and that the Danish krone is strong has also helped.
"At the end of the day, art is not God's desire: it's a product, but it's a way for people to make a statement and be different, even when they have the same kitchens."
Also at Scope, London-based Janet Rady specializes in art from the Middle East. As is often the case in international fairs, she presents artists who are widely recognized in their own countries but are completely unknown abroad. She therefore has the difficult task of reconciling the expectations of two opposing markets, pricing the works modestly to pierce the western market, but without damaging the expectations of the artists at home.
Solo Project
The two young owners of Gallery M2A from Dresden, Marko Göhre and Andreas Jenke, present high quality work that still comes out of the schools set up in the former East Germany: painting from Dresden (where Gerhard Richter was trained) and graphic design from Leipzig.
"There is a pool of artists from a rich artistic tradition from which we can choose," they indicated. Most of the works they expose sell for less than CHF1,000.
It is a sign of the times that many of the galleries present at Liste call themselves 'projects' and invite artists to give performances as well. Many can still be seen for free, but there is talk that they too will become collectors' items. Right now, they're still going for a song.
by Michèle Laird
Soure: swissinfo.ch