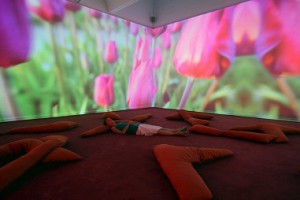 As the art world revs up for the 45th edition of Art Basel in Switzerland, swissinfo.ch looks beyond the usual fare of paintings and sculptures and explores why so many top galleries are now presenting films by artists.
Video art has been around since the late 1960s when pioneers Nam June Paik and Bruce Nauman were the first to use the moving image as part of their art installations. In the 1970s, American artist Bill Viola began using videos as standalone works of art.
And now, younger artists are giving video art a new life. They belong to a generation that has been milk-fed on MTV, brought up in an image-driven world and that is digitally savvy. (It has been whispered that their next stop will be post-internet art, made with and for the Web in mind.)
As early as 1999, Art Basel set up a film section in recognition of the moving image's role in contemporary iconography. The strategic move was also made to cater to an up and coming generation of collectors who relate strongly to time-based media, the name given to video, film, audio and computer-based technologies.
Art Basel's film section, which concentrates on single-screen projections, is now included in each of its three geographical editions – Basel, Miami and Hong Kong – but the choice of curators with distinctive cultural sensibilities for each location gives the events very different flavours.
Three different Art Basels
For Miami Art Basel in December, David Gryn, director of London's Artprojx, creates entertaining events that can compete with the glitterati razzmatazz that Miami generates. Projections take place outdoors, whereas in Hong Kong and Basel, they are generally organised in movie houses, away from the commotion.
Hong Kong curator Li Zhenhua, who lives between Zurich and Beijing, is a recognised artist, producer and curator of media art, an umbrella term for art experiments conducted with new technologies, also known as digital art.
"Most artists born after the Seventies in China engaged in social issues and in media. Media art was a way for us to explain how we perceive the future. There has however been a change in the last five years and media artists now want to be referred to as contemporary artists," he pointed out. Li Zhenhua's selection of 41 artists was made to appeal to local audiences as well.
In Basel, the curator for the past seven years is Berlin film scholar Marc Glöde, in association with collector This Brunner. As an intellectual who analyses the impact of moving images, Glöde's preference leans towards films that are complex.
He explained to swissinfo.ch that one of his criteria for selecting films by artists is the potential for irritation. "When I was living in the States, the idea of irritation became something I was more and more interested in," he said laconically, adding: "While people were referring to irritation as something negative, to me it was something that kept me thinking. My capacity to be surprised is intact when I don't relax."
The German curator recognises a new energy in his field of expertise. "Artists were always trying to overcome the restrictions of the screen. With beamers, images can be projected more or less anywhere."
In a demonstration of technical wizardry made possible by beamers, pioneer Bill Viola, who has been working in video for more than 40 years, enhances the architecture of Bern's cathedral and the Kunstmuseum Bern with his powerful imagery.
Glöde also described how a younger generation of artists that has grown up with an everyday experience of the moving image has been increasingly stimulated by the production of art films.
One such artist is Ryan Trecartin. Hailed as a voice of his times, 33-year-old Trecartin, along with his accomplice Lizzie Fitch, transforms candy-coloured images of their camp friends into a riotous kaleidoscope.
Not surprisingly for an artist of his age, he makes his videos available on Vimeo. By doing so, he is upending the traditional business model of art galleries and has provoked a split with his own.

The role of galleries
Time-based media has never been an easy sell, and yet it is becoming more popular. Art fairs therefore remain the best opportunities for galleries to present their artists. Although a few galleries take part in all three editions of Art Basel, they never present the same artists in two locations.
Hauser & Wirth, the cutting-edge Swiss gallery with outposts in London and New York, presented in Hong Kong the endearing 'action sculptures' of Swiss artist Roman Signer, but in Basel will be showing the startling Sterling Ruby and spiritually absorbed Rashid Johnson.
Moving image art has been around for a long time and has always found its place in the selling repertoire of galleries, Hauser & Wirth Executive Director Florian Berktold told swissinfo.ch.
"What has changed a lot in the last five years are the technical possibilities: the enhanced infrastructure in terms of image quality, size of cameras, editing on a laptop, sound engineering on the iPhone and advanced technical standards," he said.
Berktold cited as examples the hugely complex film with elaborate acoustic features presented by Anri Sala for the French Pavilion at last year's Venice art Biennale or the recent 11-part multi-channel music and video performance piece by Peruvian artist David Zink Yi.
He pointed out another important development in the last ten years: the availability of resources in major collections and private institutions to deal with the preservation of time-based media. There are even video restoration classes at university level.

Art films or film as art
For more than 50 years, the use of moving images in art has been primarily conceptual or used within performances or installations. The ground-breaking Schaulager in Basel has presented in succession four artists of worldwide stature who blend the genres, all of them men: Matthew Barney, Francis Alÿs, Steve McQueen and Paul Chan.
Notwithstanding Switzerland's Pipilotti Rist, and Gillian Wearing from Britain, there have been very few women video artists.
But in a screen-obsessed environment, artists are inventing new ways to look at the world and for two years running, in 2012 and 2013, the prestigious Turner Prize has gone to women. British Elizabeth Price creates works that take video art to a new dimension. Her elaborate montages are voluptuous in form, content and meaning. They take more than a year to make and she says, interestingly, that they are never finished.
French Laure Prouvost won the prize in 2013 with an installation entitled Wantee. At the core of her work is making art an experience, like the feeling of the sun on skin, the subject of one of her latest videos.
Perhaps time-based media is acquiring a sensorial status it did not have before. Something for the Art Basel film curators to consider.
By Michèle Laird
Source: Swissinfo