A giant air show is showcasing the 100 years of the Swiss air force and 50th anniversary of its aerobatic squadron, the Patrouille Suisse.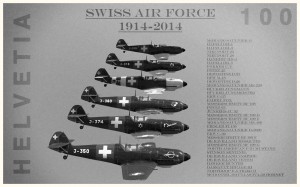 Despite recent setbacks for the Swiss army, the air force continues to fascinate and enthrall the Swiss public, with 160,000 visitors to the Air14 show at its first weekend in the western Swiss town of Payerne. The show runs for nine days.
The Swiss air force has not had an easy time of things recently. In 2006, for the first time in its history, parliament rejected the military's arms procurement programme in a row over the acquisition of two air transporters. In May this year, Swiss voters refused the purchase of Swedish Gripen fighter jets, in a major defeat for the government.
But there is little doubt that the Swiss are proud of their military history, as the turnout for Air14 seems to show. This highlights included displays by the first Swiss plane, the Blériot XI-2, helicopters through the ages from the Alouette II to the Cougar, and a close formation show involving the Swiss aerobatic squadron, Patrouille Suisse and a Swiss International Airlines Airbus A330.

Source: Swissinfo