202 TG, High precision turning and grinding. Even today, nearly one century after the company's foundation, and after extensive experiences in the fields of the construction of lathes and milling machines, Schaublin Machines SA will continue to follow always the same target – the construction of high-precision machinery.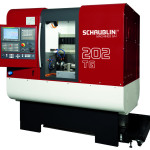 Has Its 202 TG,  high precision and production machine that combined turning and grinding, this machine can be used for both turning and grinding operations.
It comes with a cast frame, a W25 headstock and two slides (X/Z axes). The user now has the possibility to perform his turning and grinding tasks on one single machine. However, the machine can also be used exclusively for grinding, be it external or internal grinding, even more so as the protective devices of the machine have been especially designed for this type of machining.
In addition, the 202 TG can be equipped with a bar loader with collet or chucks as well as with various other options like tailstock, turret, grinding spindle, parts catcher etc. in order to reach the exacting needs of our customer.